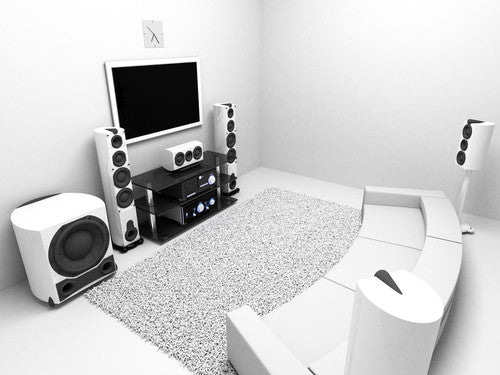 How Many Surround Sound Speakers do you Need and does it Make a Difference?
When creating a home theater system, to some, it would make sense to install as many surround sound speakers as possible. It seems logical the more speakers you have, the more coverage and better sound you'll get. However, this isn't always the case. Although this seems completely logical, it's important to note that you shouldn't mistake quantity for quality and if you want to set up the perfect surround sound system, you'll need to consider many different aspects. The amount of speakers needed for your home theater will vary greatly depending on the desired effects you're wanting to achieve, what you'll be using them for most and the available space you have to work with. The quality of your surround sound system doesn't always depend on the amount of speakers you have, but rather your circumstances and personal preferences. So, how do you know how many speakers you need? Before you go out buying an unnecessary amount of speakers or not enough and have regrets, read on. This helpful guide will help you find the right amount of speakers needed for your home or office to meet your surround sound needs so you can set up a personalized system that will blow your expectations away.
2 Speakers
If you're a music-lover and will be using your surround sound system for music more than any other audio, you won't need your classic 5-speaker home theater setup. As a matter of fact, you'll really only need two. Therefore, your best bet would be to invest in two really high quality stereo speakers such as Modern Speakers S330D by Edifier instead of five mediocre ones. These stereo speakers work well with movies as well and if you want more of the rumbling reverberated sound you get from a 5.1 speaker setup when watching movies, you can always just add a subwoofer, such as the XSUB by Blue Aura, to your 2.1 surround sound speaker setup. This can also enhance the robust low end sound of your music if desired. Suitable for computer audio and limited desk space, you also only need two speakers for an office desk as well. If you're looking for an awesome set of desktop speakers, check out the Exclaim desktop speakers by Edifier for one of the best modernly designed Bluetooth desktop speakers on the market. The Exclaim desktop Bluetooth speaker produces exceptional high quality sound with a chic modern design anyone would be proud to showcase on their office desk.
3-4 Speakers
For a small room, a classic 5-speaker home theater system setup can actually be overwhelming and negatively effect your sound. With a small room, you will need less speakers to produce the effect you're looking for. So if you live in an apartment or you're setting up a surround sound system in a small room, 3-4 speakers should be efficient enough, easier to arrange and would be idea to help you achieve the best sound. So instead of buying an unnecessary amount of speakers, simply invest in 3-4 higher quality speakers that pack a punch, such as the modern advanced E255 home Bluetooth system by Edifier, to give you an amazing bone-chilling sound that isn't overwhelming and negatively affected by the small space you have to work with.
5 Speakers
A basic 5-speaker (5.1) surround sound setup is best for a medium sized room. A 5.1 system is more than enough to fill a good sized room with great robust powerful sound. The intense high end and thunderous low end audio will make you feel like you're in every movie you watch. A 5.1 surround sound setup works just as well when listening to music as when you're watching a movie. When listening to music, unless mastered for surround-sound, simply switch your receiver over to 'music' mode for the best music audio results that you can't be beat. Another advantage of going with five speakers is that not all DVD discs are formatted for more than a 5.1 surround sound setup, but almost all DVD's are recorded as 5.1, so when watching some DVD and Blu Ray discs, the rest of your speakers may go unused sometimes. A high quality 5.1 system setup can produce some impressive massive sound and in most cases, is more than you'll ever need. Remember, quality vs. quantity. If you're looking for the perfect 5.1 surround sound system for your medium sized room to enjoy superior sound quality when listening to both music and movies, check out the S550 by Edifier.
7 or more
If you're looking to add a surround sound system to a larger space that's over approximately 700 square feet, it could benefit from having more than your basic 5.1 surround sound setup. If you're looking to go extreme and have a space large enough, today's available large setups like the 7.2 and higher will blow your mind and if you're a movie fanatic and love going to the movie theater, a setup of this size up to up to an 11.4 setup will be as close as you'll ever get to a movie theater experience in your own home. In most cases, this will be too much and you'll never need a setup this large. However, if you have a large enough space and want to go all out and dedicate a large room in your home to your home theater system passion, the option is there.
---
---